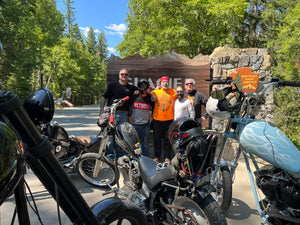 6" Up Summer- The Back Story; 4500 Miles Through The Rockies With BKP
 Last year, Darren McKeag and I decided to take the long way to Sturgis. Lots of mountain riding, camping, and good food. The group grew from 2 to 4, when Darren's good buddy Phil jumped in, and brought along his pal Steve. 
I left solo from the Bare Knuckle Performance World headquarters here in the Saint Louis, MO area, and caught up with my buddy Gabe of Afterhours Choppers in middle Colorado. After hanging with Gabe and Lois for a couple days, I met Jeff Quilty in mid Colorado and we jammed along US 50 over to Montrose. Unfortunately, Jeff had to go back to work after a couple days. Darren, Phil, Steve and myself zig zagged thru the Rockies from Montrose to Yellowstone, then Chief Joseph Trail and the Beartooth Highway, and eventually over to Sturgis. We rode a few thousand miles in those 5 days, with only a hundred or so on divided highway. 
 Needless to say we had a blast. 
 Over the winter the idea came up for us all to ride choppers on this year's ride. The group changed a little bit, with Jeff being with us the entire time, as well as Phil's lifelong friend Chuck. Steve unfortunately couldn't make it. 
Jeff was set to ride the 12" up derake chopper we built from his 2021 Lowrider S. Darren sent his late 90's Softail to us to chop. Phil had Ryan Gore of Paper Street Customs put together a badass little hardtail chopper roller, which Chuck finished. Chuck chose his hotrod early twincam Softail chopper. And of course, I had to ride my FXR Chopper. 
We got started on Darren's bike about two weeks prior to leaving. Classic. Luckily Big Mike is a bad MFr when it comes to all things motorcycle, and in short order we had Darren's bike stretched up 6" (hence the 6" Up Summer), powdercoated, and ready for assembly. Mike took the original 80" Evo down to the pin, having Mike at A1 Cycles rebuild the lower end. Once it came back, Mike reassembled the engine with all new go-fast parts, and some mild porting and polishing. Behind that we added a Baker 6 speed transmission, and one of our Antihero Chain Drive Conversion Kits. Now Darren could get stop light to stop light quickly, but also maintain higher speeds when needed. I took the tank apart and replaced the filler and tunnel that Mike had made, and gained a little fuel capacity for Darren, along with a bunch of style. A tough guy stainless steel sissybar was made, and once Darren got here, he cut up his Thunderheader, and he and Mike made his "Krak Pipe". A set of 8" StrongArm Risers, handmade bars, and our 41mm Super Narrow frontend capped off the leading edge of the bike. Mike devised a killer cable operated foot clutch, while Afterhours Gabe knocked out a one-off jockey lever and killer taillight. 
Two days before we were set to leave, Darren was out jamming gears and putting on break in miles. After about 300 miles, he came back in for fluid change and a once over by Mike. All was well, and Darren was set. 
In the meantime, we slapped a set of our Pioneer Adventure Bags on my FXR, and Jeff showed up from Colorado Springs on his Softail chopper, already equipped with his own set of Pioneer Adventure Bags. We were ready to hit the road to Colorado!
Catch up with on the next blog post for when we hit the road, and everything just happens to fall into place. 
Until then, FTW - Paul
---
3 comments