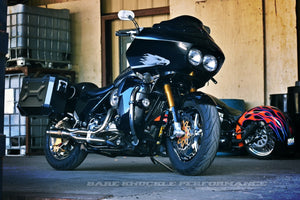 A Tour on FXR Hans' 2001 Bare Knuckle Road Glide
Hot off the lift is the latest custom modification from Bare Knuckle Performance and the wizardry of ⚡️9 Finger Mikey⚡️. While we love taking on ground up builds, custom mods and transformations do get us pretty stoked…and this one was particularly satisfying. 
Paul met Hans in 2022 on his way trip through the Rockies headed to Sturgis, and the rest of the crew got know to know Hans in Sturgis at the FXR Show. We immediately knew he was someone we were interested in working with, so after some further collaboration and ideas, we arranged to meet him and bring the bike back from Colorado not long after the boys returned from Sturgis.
Initially brought in for some high speed handling issues, Mike went to work on chassis components, replacing all the engine isolators and performing a proper alignment. We added a Zippers Magneti Marelli ECM conversion kit, HPI throttle body and exhaust, Allot Art swingarm, Screamin Speed N' Fab side covers, and our BKP Reservoir Brackets. This got the bike safe and gave him the performance he was after.
Because Hans is a high mileage mountain rider and enjoyed his previous saddlebags, he wanted to take advantage of our Pioneer Adventure Bag System and having the option to have bags, or go without for a cleaner look. Since we don't currently offer them for that year, we went with a one off setup with some magic and a Dyna Touring Fender from Russ Wernimont Designs. 
This bike was pretty pristine as it was, but we think these upgrades just pulled the whole bike together from both performance and aesthetic perspectives! 
What do you think???
---