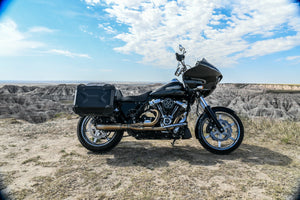 Bare Knuckle Performance Road Glide For Sale
Bare Knuckle Performance's 2021 Roadglide, our personal shop bike with just under 9000 miles is up for grabs!
124"
Woods 22xe cam
SE 64mm t-body
5.5 g/sec injectors
Screaming Eagle lifters and pushrods
Baker drivetrain compensator sprocket 
Bare Knuckle Performance cush drive chain conversion
BKP fork brace
BKP Antihero wheels
BKP Antihero rotors
BKP Air Cleaner
BKP FLEX Risers with Dakota Digital speedo/tach combo
Custom built crash bar eliminator
Two Saddlemen seats, one step seat, one road sofa with backrest
BKP Pioneer Adventure Bag system
Fab 28/FXR Division stainless steel pipe
Speed Kings high bend bars
FXR Division Dyna style rear fender
FXR Division fender struts
Custom Dynamics LED Taillight
Screamin Speed n Fab FXR style side covers
BKP top tree with adjustable riser angle
BKP Bare Trap passenger pegs 
Legends Revo Arc rear (with our reservoir clamps
Racetech internals front 
We've got more invested in ARP bolts & fasteners than your moms annual cigrit budget
Darren McKeag hand lettering on fairing and fender
Runs immaculately. FAST! 
Asking $34,500 obo.
---